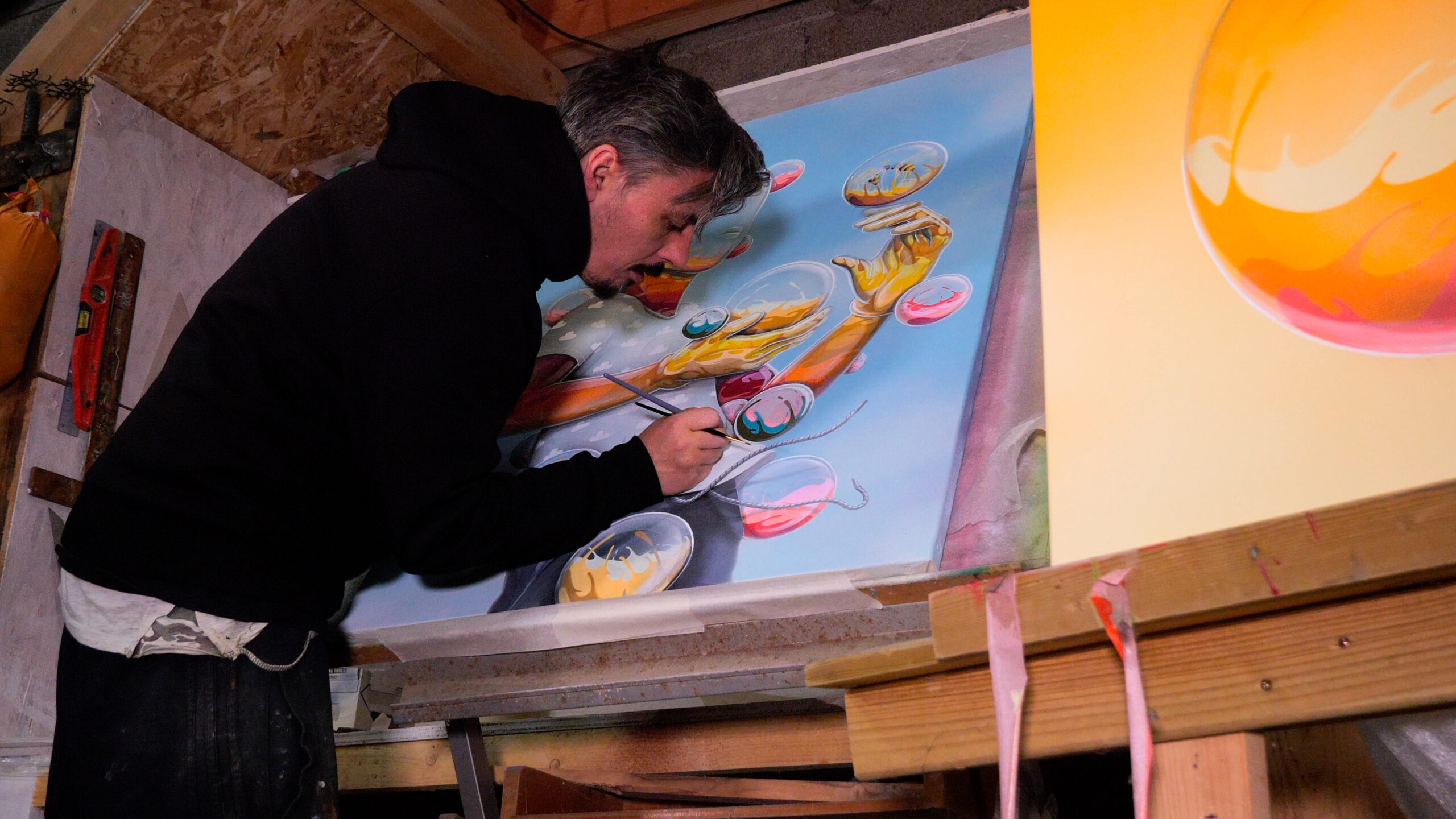 Hi, I'm Flog
A French artist, creator of the « human of glass ».
I was born in 84 in the middle of the Pop years and have been drawing since my childhood. I later started studying graphic design at the Pivaut school in Nantes and decided to make it my profession.
Since 2020, I started my series of « Human of Glass » and developed my graphic signature and my universe through transparent characters that fill with colors. The glass symbolizing the carnal envelope of the human being as an empty and fragile shell and the colors symbolizing the emotions, the feelings, the knowledge, the experiences or the values that make each person a unique being. Contrasting with a background in shades of gray in the image of a world increasingly hard, the « human of glass » feed and share their colors subtly by interacting with each other or with the background. While taking care to leave each one its free interpretation or its feeling, I try to sprinkle in my works, metaphors, melancholy and messages of hope.
Taking up my concept of « Human of glass », I also re-appropriated some icons of Pop Culture that rocked my childhood. As a tribute to all these characters with whom we grow up and move away as time passes as symbolizing the passage from childhood to adulthood.
Constantly looking for new ideas and inspiration to develop my artistic universe, I draw constantly. Depending on the mood, I draw half-empty or half-full glasses which will then serve as models for my paintings or frescos. The goal is to share my work and to invite you to dive into this universe and the symbolism that is hidden in it.
2023
April : « 10 » – Group Show
VERTICAL GALLERY – Chicago / United States
February : « Child's Heart » – Solo Show
EXCLUSIVE URBAN ART GALLERY – Rome / Italy
2022
December : « SCOPE Art Show » – Art fair
VERTICAL GALLERY – Miami / United States
November : « Atomic Number 13 » – Group Show
VERTICAL GALLERY – Chicago / United States
September : « District 13 » – Art Fair
GCA GALLERY – Paris / France
July : « Urban Animals » – Group Show
EXCLUSIVE URBAN ART GALLERY – Rome / Italy
June : « Human of Glass » – Solo Show
GCA GALLERY – Paris / France
April : « Nine » – Group Show
VERTICAL GALLERY – Chicago / United States
January : « District 13 » – Art Fair
GCA GALLERY – Paris / France
2020 -2021
Art Triberium Gallery – Clisson / France
UPCOMING :
2023
October : Group Show
VINS GALLERY – Taiwan
December : « SCOPE Art Show » – Solo Show
VERTICAL GALLERY – Miami / United States
2024
February : Solo Show
VINS GALLERY – Taiwan